IYPT 2022 – Timișoara, Romania
(15th – 23rd July 2022)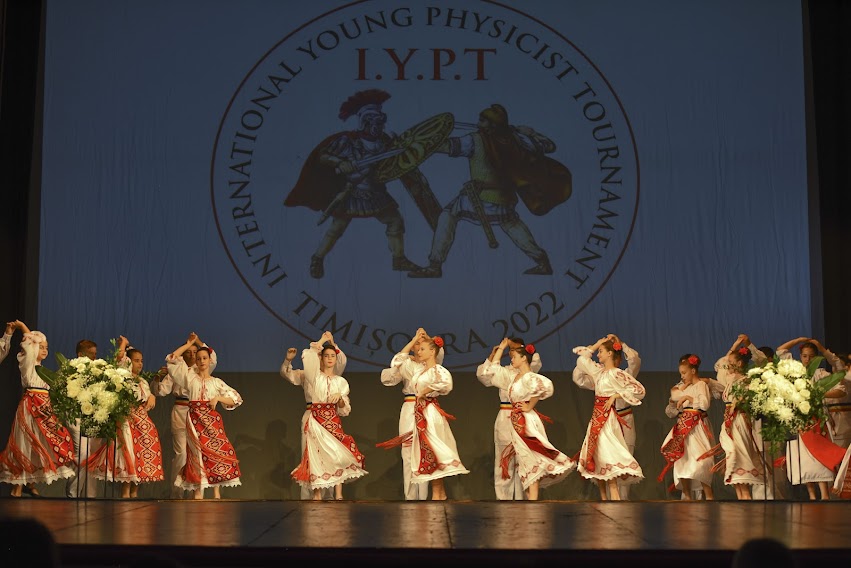 General Information
The 35th IYPT was held in Timișoara, Romania from July 15th till July 23rd. The IOC meeting was held after the tournament, from the 23rd till the 25th of July. The host of the 35th IYPT was the West University of Timișoara.
Finals 2022
Switzerland: 10. Droplet explosion
Singapore: 3. Ring on the rod
Poland: 8. Equipotential lines
Livestream of the finals can be found here: https://www.youtube.com/watch?v=EVjGMO_ocp0&ab_channel=CanadianYoungPhysicists%E2%80%99Tournament
Results
The first place was taken by Switzerland followed by Singapore in second and Poland in third place.
Complete results and ranking of teams at IYPT 2022 are available at: https://cc.iypt.org/iypt2022/rank/
Program
15. July – Arrival day
16. July – Arrival day, Jury Training (20:00)
17. July – Opening Ceremony, PF1
18. July – Excursion 1, PF2
19. July – PF3
20. July – Excursion 2
21. July – PF4, PF5, Excursion 3
22. July – Finals, Closing Ceremony
23. July – Departure day, IOC Meeting (day 1)
24. July – IOC Meeting (day 2)
25. July – Departure of the IOC Members
Documents
IYPT 2022 (Timisoara)_REPORT OF INSPECTION VISIT (4. 6. – 6. 6. 2022)
IYPT 2022 (Timisoara)_LETTER TO THE IYPT
IYPT 2022 (Timisoara)_IOC MEETING MINUTES (23. 7. – 24. 7. 2022)
IYPT 2022 (Timisoara)_EC MEETING MINUTES (28. 11. 2021, via zoom)
IYPT 2022 (Timisoara)_JC MEETING MINUTES (20. 9. 2021)
IYPT 2022 (Timisoara)_CONTRACT LOC – IYPT
IYPT 2022 (Timisoara)_PROBLEMS
Gallery